Profile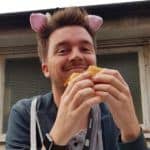 Ashley Otter
Thank you for all the votes and congratulations to Ananthi!
Curriculum Vitae
Education:

Newbridge Comprehensive School (2004 - 2009), Crosskeys College (2009 - 2011), Cardiff University (2011 - 2015), Royal Veterinary College (2015 - Present)

Qualifications:

BSc Microbiology, A levels (Biology, Chemistry and ICT), 11 GCSEs

Work History:

Carphone Warehouse (part-time during uni), Cardiff University (placement year and summer lab job), Royal Veterinary College (PhD)

Current Job:

PhD student in molecular microbiology

Employer:

I just finished my PhD at Royal Veterinary College, a veterinary based university based in Camden in London and near Potters Bar, just outside of London. We were ranked one of top 3 in the world vet schools in 2017 for the 3rd year running (see here).

In addition to lots of veterinary undergraduate students we have many active research departments. My department specifically is the Pathobiology and Population Sciences, based within the Centre for Emerging, Endemic and Exotic Diseases (CEEED).

Since finishing my PhD, I now work at Public Health England, working on diagnostics of rare & imported pathogens.
My Work: So my work is focussed on the bacterial pathogen that causes tuberculosis (TB): Mycobacterium tuberculosis. This bacterium is the primary cause of death across the globe due to an infectious disease, more deadly than HIV or malaria, with one third of the worlds population being infected. Specifically, I'm looking at how the genetic differences between M. tuberculosis and M. bovis affect lots of things like virulence (how ill it can make us) or survivability (how long it can survive in types of cells)

Read more

My particular project is looking at the DNA differences between Mycobacterium tuberculosis (the cause of tuberculosis (TB) in humans) and Mycobacterium bovis (the cause of TB in cows). Here, I'm trying to figure out what the effect of these single (and sometimes big) differences have on the bacteria and if they can help us defeat these nasty bugs.

I do lots of experiments, such as making mutant versions of M. tuberculosis, putting genes from one bacterium into another and PCR.

I also try to do lots of bioinformatics, which involves looking at all DNA sequences on the computer and running the data through special programs to find things, recently I've been looking at single DNA changes in +5,000 M. tuberculosis genomes!

My Typical Day: I usually aim to get into work from 8.30am, just so I avoid the rush hour. I often have breakfast at work whilst checking emails and scrolling through Twitter. Then, plan my experiments for the day, read any results from experiments from the previous day and then plan some lab work and start some experiments. After lunch I check emails again before running a few more experiments. Usually leaving work at about 5/6pm, but sometimes experiments go on longer than I'd like, so sometimes don't leave until 9/10pm!

Read more

Most work I do though is in the main laboratory, mostly molecular microbiology, like PCR and altering the genes of other bacteria (mutagenesis). This is what my lab bench looks like most days…

Sometimes, once or twice a week, because I work on a high containment pathogen (meaning it can make you sick easily if you come into contact with it), we have to go into the containment level 3 (CL3)/biosafety level 3 (BSL3) laboratory. Here, the laboratory is under negative pressure to stop the bacteria escaping out and we have to wear more personal protection – gown up in a different style of lab coat, wear 2 layers of gloves, some oversleeves and some dashing blue shoe covers.

This is the inside of the containment lab (when it is down for maintenance, hence being able to take my phone in!). It is entirely separate from the main lab, the only bit connecting the main lab is either a 30 cm thick window or 2 big heavy metal doors. Here, we work on all the nasty pathogens, but because Mycobacterium tuberculosis and Mycobacterium bovis grow so slowly (usually takes a month), we are only in here once or twice a week.

How I got into this job: I did a placement during my undergraduate degree, loved the lab a lot and so decided on a PhD

Read more

I always loved biology at school and then started to learn microbiology at college. Thankfully I had 2 awesome biology teachers (Dr Garland and Mrs Balshaw) that taught microbiology really well and I got hooked.

I then decided to apply for a university place with all 5 applications for microbiology at the following universities: Cardiff, Leeds, Aberystwyth, Birmingham and Manchester. I loved Leeds, but then decided on Cardiff, as I had familiarity with it (as I did summer school there and various engagement events), so I accepted Cardiff as my firm offer and Aberystwyth as my insurance. Luckily, I got the grades needed for Cardiff and so was off to study microbiology!

Fast forward to the start of university, and I loved all the lectures, especially lots of heavy microbiology and biochemistry. Fast forward again and I finished my 1st year and wanted to do a bit more lab work, so I asked the lecturers at Cardiff if I could shadow their work over the summer and luckily was offered an initially unpaid, but thankfully became paid placement, where I was working on MRSA. It was a great experience where I got to learn all the ins and outs of a lab and get lots of experience.

This made me want to do more lab work, so I signed onto the 4-year degree scheme (instead of the 3 years one I applied for), which allowed me to take a year out of studying to go get some lab experience – termed professional training year (PTY).

I then applied for a few places for placement years but then got a super cool one in Cardiff working with bacteriophages (viruses of bacteria) of anthrax. Here, I worked on my own research project for 12 months.

After finishing my 12-month placement, I decided the best route for me would be an MRes (Master of Research) or a PhD, but it was increasingly difficult to get PhD positions without an MRes. But luckily, I was offered the PhD position at RVC working on tuberculosis.

My Interview

What's the best thing you've ever done in your career?

Find something that no-one else has found

What advice would you give someone who wants to be in the same career as you?

Work hard at school, I found taking distractions away (phones, laptops, TV etc) really helped at revision time. I used to revise in front of the TV, but that didn't help

What do you see as your next step in your career?

I'm currently working for a small pharmaceutical company, looking to move up the chain :)

What other sorts of jobs can you do with your qualifications?

With a BSc and PhD, you can pretty much do most jobs, as they give you both lab skills and personal skills that can be applied to a wide range of jobs

What's the best part of your current job?

I love discovering new things and doing stuff that can potentially help people in the future

What don't you like about your current job?

Money could be better, but not in it for the money, in it for the discoveries :D

My profile link:
https://ias.im/u.156225
---
---
---