Profile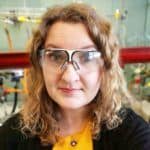 Bryony Hockin
I am a PhD student in Chemistry at the University of St Andrews, studying how to make chemical reactions happen using the power of sunlight.
Curriculum Vitae
Education

Priory School, Lewes (2005-2010); BHASVIC sixth form college, Brighton & Hove (2010-2012); Durham University (2012-2016); University of St Andrews (2016-2020)

Qualifications

GCSEs: 10A* grades in: Maths, English Literature, English Language, German, Spanish, Latin, Chemistry, Biology, Physics, and Art. Distinction grade in ICT. A-Levels: Grades A*A*A* in Mathematics (core and statistics), Chemistry and Biology A-Level, and an A in Creative Extended Project. MChem (first class, with honours). Currently working on a PhD!

Work History

Volunteer, Age UK Charity Shop (2014-2015)

Current Job

Postgraduate Demonstrator - University of St Andrews

Employer

As well as my PhD I work for the University as a teaching assistant. This means that when undergraduate students learn how to do experiments in the lab, I'm the one helping and teaching them. I show the undergraduate students how to set up experiments, and when things go wrong I try to fix them. I wear a special bright green lab coat so everyone can easily spot me in the lab and come and find me to ask questions!
My Work: I make chemical reactions happen using the power of sunlight! I make lots of molecules out of copper and then use them like antennae to direct light energy into chemical reactions; this is greener than using heat energy.

Read more

I am working towards a PhD in Chemistry at the University of St Andrews; I do research about making chemical reactions happen using sunlight, and run experiments to make new chemicals. I also have a job teaching undergraduate university students practical chemistry. I make lots of very pretty glowing molecules and then use them like antennae to direct light energy into chemical reactions; this speeds up the chemical reaction that wouldn't otherwise happen without the energy from light.

My Typical Day: A mix of doing experiments, writing computer code to predict what the experiments will do, and lots of paperwork! Plus at least one tea break.

Read more

During my work as a PhD student, I decide which hours I work, so usually I'll come into my office at 9am (if I'm tired it might end up being 9.30am…) I'll answer a lot of emails and then start doing experiments in the morning. The experiments I do usually take a few hours so I can set them up and then go and have lunch! I also write computer code so that we can predict what molecules will look like and how they will behave before we make them. This is useful because it means we can compare the predicted properties of the molecule with what they actually do!

I teach classes of undergraduates as a separate job to my PhD, usually for 3 days a week. My class has between 60 and 90 students in a big teaching laboratory where the students learn how to run experiments. I'm there to help them out with setting things up, helping fix things when they go wrong, and answering any questions that the students have about the chemical reactions they're doing. I'm not all alone when I do this, there's usually two or three other teachers walking around the lab because the class is so big, and the teachers all wear bright green lab coats so it's easy to spot us when we're wandering around the lab (all the students wear white ones) I really enjoy teaching and helping students understand chemistry! It's a very tiring job though because I'm standing up and walking around all day, sometimes I find I haven't sat down for 4 hours…

How I got into this job: After I finished my Masters in Chemistry I applied for PhD positions and was lucky enough to get an offer to study at the University of St Andrews on the CRITICAT PhD program.

My Interview

What's the best thing you've ever done in your career?

Lived and worked in Canada for three months doing chemistry research. The lab was very different from my one at home but it was really fun and I got to learn some French while I was there. Also, it snowed a lot so I got to go skiing on weekends.

What advice would you give someone who wants to be in the same career as you?

Be passionate about chemistry and work hard!

What do you see as your next step in your career?

Finishing my PhD in two years time, and working either in industry as a chemist or as a postdoctoral researcher.

What other sorts of jobs can you do with your qualifications?

Industrial chemistry, research and design, teaching, many different careers!

What's the best part of your current job?

I love getting to travel all over the world to present my work to other chemists.

What don't you like about your current job?

There's too much paperwork! It's really boring.

My profile link:
https://ias.im/u.210770
---
---
---