Profile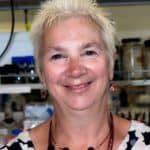 Carol Wallace
I'm a research technician focussing on biomedical sciences. we're looking at moving what we do in the lab to greater relevance to patients in hospitals or at GP surgeries. I work mainly in Immunology which is where the body attacks foreign bodies - bacteria, proteins, pollen and fungus
Curriculum Vitae
Education

Aberdeen Academy, University of Aberdeen and Robert Gordon Institute of Technology

Qualifications

BSc in Biochemistry and a Diploma in Analytical Techniques

Work History

I've worked at a government research station, in a the quality control department of a small manufacturing pharmaceutical company before taking up my role with the University of Aberdeen

Current Job

I'm a research technician

Employer

I work for the 

unfortunately not at the picturesque campus above, but at the relatively new purpose-built Institute of Medical Sciences (below). The University  was founded in 1495 and is one of the oldest in the UK. My building is home to lots of groups working in fields closely related to Medicine and we are based at the same site as the major hospital ARI (Aberdeen Royal infirmary) for the North of Scotland. This gives us very close links to patients and helps us move the science from the lab to the bedside.
My Work: I'm now working with a group who are looking at the blood-clotting process, or how scabs form!

Read more

On the left is my favourite toy, a flow cytometer. This is used to separate different cell types into populations. these all have different properties and functions with the body. I look at cells in the blood or in tissues.

A main part of my work is producing antibodies, which have lots of uses in the laboratories, they can be used to separate different cells, recognise different cells and even block cells from doing their job. on the right I've 2 columns set up to isolate the antibody proteins from the media they were produced in. We grow cells that pump the protein out into the culture media and collect the media to get the protein – often litres of liquid for 1 or 2 thousandths of a gram!

I also use the polymerase chain reaction (PCR) to look at genes produced in cells. How they react to stimulus or stress. this can help us understand what happens in tissue or the body.

My day is very varied, sometimes I'm in the lab all day and other times I spend a lot of time at the computer doing analysis of the data I've collected.

Read more

As I said above, I don't have a typical day – my work is very varied.

I can be collecting samples from volunteers – usually blood or I can be analysing data at the computer.

I enjoy a day when I'm in tissue culture, growing cell lines for experiments or for protein production. I find it very relaxing, even though I am working in a sterile environment conscious of not contaminating anything by touch (or even sneezing)!

I can be isolating DNA or RNA from cells or tissue or I can be designing experiments trying to figure out why the last one did not work!

Every day is different and never routine, and you always have to be prepared for the unexpected – be it a result, malfunction of an important piece of equipment or even a fire alarm.

My Interview

What's the best thing you've ever done in your career?

Getting a front cover article in Nature

My profile link:
https://ias.im/u.220000
---
---
---