Profile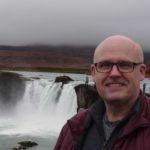 John Midgley
Oh No! It's all over!!! Thank you, I had a great time chatting with you all.
Curriculum Vitae
Education

I went to North London Polytechnic, Manchester University, The Open University and Cambridge University.

Qualifications

Although I did not do too well at school, I now have 5 degrees (working on the 6th now), a diploma, 2 PgCerts, 1 PgDip, 3 charterships, 2 fellowships, registered European Professional Geologist, a City & Guilds technical qualification and a tank drivers licence.

Work History

Before the British Geological Survey I was a consultant in oil and gas exploration and geoscience research.

Current Job

Technical Manager at the British Geological Survey

Employer

Energy Geoscience

An independent think tank and consultancy for geoscience, geoengineering, sustainability and society.
My Work: Currently working on energy, how changing the underground changes the world around us, and trying to work out how to drill under a volcano to sample hot liquid rocks.

Read more

We do nearly everything scientific, and have a lot of fun doing it.

Geologists can spend a lot of time flying, looking at the landscape to identify rocks and how they fit together.

Looking for geological structures from the air

Once we know how they fit together, we get closer to the ground, often doing vehicle surveys to visit areas identified from the air or satellite and do detailed surveys, sometimes seismic (using sound to image the underground) or very technical and scientific surveys looking at differences in gravity or electrical response of rocks.

Driving around the Sahara Desert

Parked admiring the view in the Sahara Desert

When we think we have found something, we use drilling rigs to drill boreholes to see if we are right. If we are, we can get water, oil or gas, or use the boreholes to inject Carbon Dioxide (CO2) and help fight climate change.

Drilling for gas in the Sahara Desert

Drilling for oil, and drilling for water in Yemen

Drilling for oil above Holmfirth, Huddersfield, UK

A drilling bit (Azerbaijan)

When drilling the wells we record everything (and I mean everything!), we collect the rock chippings coming out of the hole, we take core, we capture the gases in the well, look at microbes, take the temperature, read the radioactivity of rock and how strong it is.

It can take years for geologists and other scientists to properly look at all the rocks and gases and information. We use this information to build oil and gas wells, water wells, obtain heat, mine minerals we need and manage how we use the underground and how using the underground changes the world around us.

My Typical Day: ...reading documents, answering questions, solving problems, asking myself what do we do next?

Read more

My days can be very different.

Some can be spent in an office, in front of the dreaded computer, doing lots and lots of paperwork. Unfortunately this paperwork is important. It details what we want to do, how we will do it, who will pay for it and what it should look like when finished.

Me on a day of meetings and paperwork…

Other days can be spent outside walking around the countryside or on site with drilling rigs.

Drilling for water in Wales (with the Army)

I spend a lot of time talking to people, trying to plan what we should be doing and helping them solve problems. These problems can be about how we do our business, but the best ones are helping solve science, engineering and environmental problems. This can be anything from drilling holes and understanding rocks, or how best to sample rocks to look at the microbes, the very small life that calls the rock its home, or how the results should be shown to non-scientists. Sometimes I get to speak to people who want to be scientists and I get to help them pick the right pathway.

Sometimes, if I'm really lucky, I get to go places like Iceland and hold meetings next to waterfalls.

Me in Iceland, having a meeting by a waterfall

I think this should happen a lot more often.

My Interview

What's the best thing you've ever done in your career?

Travelled. By travelling you see new things, eat different food, and see some very different TV.

My profile link:
https://ias.im/u.194266
---
---
---