Profile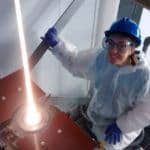 Kerrianne Harrington
Curriculum Vitae
Education

I actually went to over ten different schools throughout my childhood, so far too many to list! I was a sixth former at Rainham School for Girls, and did my undergraduate at the University of Bath.

Qualifications

GCSEs, A-levels, Master of Physics

Work History

Greggs, B&Q, English Language Centre

Current Job

Research fellow

Employer

I am a post-doctoral researcher at the University of Southampton. In my work with the Optoelectronics Research Centre, I work on airguide optical fibres called hollow core fibres. The Optoelectronics Research Centre (ORC) is one of the world's leading institutes for photonics research, based in the Zepler Institute for Photonics and Nanoelectronics, at the University of Southampton.

They have a vibrant community of researchers, led by some of the leading figures in the field of photonics, who have contributed significantly to the remarkable growth of the photonics industry, including the optical telecommunication technology that underpins the internet as well as solutions in medicine, biosciences sensing, security and manufacturing.

In recognition of their world-leading expertise in photonics and fibre optic technology, and the many decades of inspired innovation by the ORC to provide solutions for real-life problems, the University of Southampton' has been awarded a prestigious Queen's Anniversary Prize for Higher and Further Education.
My Work: I test and splice optical fibres. Imagine tiny craft projects with hot glass and lasers! The optical fibres I use are novel because they are hollow inside. This means we can do new science like put really powerful lasers inside.

Read more

I design, modify and test optical fibres. These are thin, long strands of very pure glass, typically about the size of human hair, that guide light across extremely long distances.

I work within a team at the University of Southampton to investigate hollow core fibres and their applications. Usually, optical fibres are made of solid glass, but hollow core fibres are, well… hollow on the inside! This means their structure is almost inside out to a normal optical fibre!

My Typical Day: Mornings do not come easily to me, so usually I stumble out of bed early like a zombie and seek some coffee. I ride my bike to work, and then discuss plans for the day with some colleagues over more coffee. Optical fibres can take many attempts to get right and so it's important the team communicates! I take new optical fibre to a dark lab and test how it works using a laser. I join solid fibres onto the ends of the hollow fibre, then take lots of measurements.

Read more

There are very different types of day I can have, depending on what type of work I need to do:

Testing optical fibre
Modifying optical fibres

Testing the optical fibre involves investigating how it is working. We need it to carry light well, so it needs to lose very little! On these days, I will spend my morning setting up the necessary equipment to do this – it can take time to look for all of the tools that I need, as expensive equipment is often shared!

Once I have the equipment I need, I will launch laser light into the fibre. This can be very fiddly, because the laser light needs to fall on the end of the very thin fibre to get inside. I have to get the most light I can into my fibre in order to test it. I use a detector or a camera to see how well the fibre carries the light.

If I want to modify optical fibres, I will use a "splicer". Cleaved ends of optical fibre are held, heated and then pushed together to form a "splice" where two parts of separated fibre are now joined together. This is really important to be able to launch into the fibre consistently and reliably, and needs to be done very carefully! Other things I might do on a splicer is to "taper" a fibre. This is when the fibre is heated and stretched. Lots of cool structures can be made with this method, that make optical fibres really powerful devices for all sorts of applications in telecommunications, biomedical fields and sensing.

My Interview

What's the best thing you've ever done in your career?

Investigated special optical fibre that can be made smaller with very low loss. It was a really neat idea my supervisor had, and it was really amazing to be able to do the experiments to show how it can work in reality.

My profile link:
https://ias.im/u.156212
---
---
---