Profile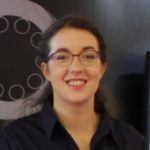 Kerrianne Harrington
Curriculum Vitae
Education:

I actually went to over ten different schools throughout my childhood, so far too many to list! I was a sixth former at Rainham School for Girls, and did my undergraduate at the University of Bath.

Qualifications:

GCSEs, A-levels, Master of Physics

Work History:

Greggs, B&Q, English Language Centre

Current Job:

Postgraduate researcher (PhD student)

Employer:

I am part of a large research project called Proteus. In Proteus there are lots of different scientists and experts working together to improve lung care for patients in Intensive Care Units (ICU). We are funded by The Engineering and Physical Sciences Research Council (EPSRC) who, by extension, also fund my PhD. At the end of our project we hope to have a device that can enable clinicians to further explore the lungs for better diagnose infections.
My Work: I make and test optical fibres. Imagine tiny craft projects with hot glass and lasers!

Read more

I design, make and test optical fibres. These are thin, long strands of very pure glass, typically about the size of human hair, that guide light across extremely long distances.

I work within a team at the University of Bath to provide the optical fibres needed for the Proteus research project. The fibres for Proteus need to be able to image and sense problems within the lungs, so as well as performing their functions, they need to be able to fit into the small airways of the lungs.

My Typical Day: Optical fibres can take many attempts to get right! If I am successful, I will take it to a dark lab and test how it works using a laser. If it doesn't work very well, I will ask my colleagues for advice and start the process again.

Read more

There are three very different types of day I can have, depending on what type of work I need to do:

Making optical fibre
Testing optical fibre
Modifying optical fibres

If I am making an optical fibre, I will spend all of my day in a clean room. This is a room that is just as it sounds – very clean! This is to stop our glass from getting dirty. Dust, water or dirt in our fibres will mean they will not keep light inside very well, making a lossy fibre. In the morning, I will put on a special suit, shoe protectors and gloves, and I will prepare my structure to make into optical fibre. This is usually made of carefully stacked glass rods that are built into the shape I would like them to be inside the optical fibre. In the afternoon, I will heat this glass structure in a furnace. When the glass is soft, it is stretched to create long and thin optical fibres.

When this process is finished, I need to test the optical fibre to make sure it is working correctly. On these days, I will spend my morning setting up the necessary equipment to do this – it can take time to look for all of the tools that I need, as expensive equipment is often shared!

Once I have the equipment I need, I will launch laser light into the fibre. This can be very fiddly, because the laser light needs to fall on the end of the very thin fibre to get inside. I have to get the most light I can into my fibre in order to test it. I use a detector or a camera to see how well the fibre carries the light.

If I want to modify optical fibres, I will use a "taper rig". The optical fibre is held and pulled on in opposite directions, whilst a flame is heating it; this stretches the fibre. Lots of cool structures can be made with this method!

My Interview

What's the best thing you've ever done in your career?

Investigated special optical fibre that can be made smaller with very low loss. It was a really neat idea my supervisor had, and it was really amazing to be able to do the experiments to show how it can work in reality.

My profile link:
https://ias.im/u.156212
---
---
---