Profile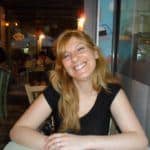 Maria Montefinese
So happy to take part in this new experience! :)
Curriculum Vitae
Education

I studied at University "Gabriele D'Annunzio" Chieti-Pescara (Italy) from 2002 and 2014, where I took all my qualifications.

Qualifications

I have a Bachelor degree in Psychological Sciences and Techniques (2007), a Master degree in Clinical Psychology (2010) and a PhD in Functional Neuroimaging (2014).

Work History

From December 2013 to February 2014, I worked as a visiting PhD student at the Department of Psychology of University of York (UK) to understand how the knowledge of the world around us is organized in patients who had difficulty to comprehend and produce words. From February 2015 to January 2016 I worked at the Department of Neuroscience of University of Padua (Italy) to study which brain areas are involved when we perform two-digit additions and subtractions.

Current Job

Honorary Research Associate at University College London and Independent Post-doc Research Fellow at University of Padova (Italy)

Employer

From October 2016 I'm working at University College London thanks to a European fund. One of my research interests is to understand how the words are organized in our brain. In other words, how the words are related among them and which properties allow their division in categories. Another my interest is to study how our body responds to the false memory. In particular, how the pupil size responds when a person remembers something that never happened.
My Work: Looking for the meaning of word meaning!

My Typical Day: Is there a typical day for a researcher?

Read more

My morning routine includes: waking up very early (5am) because I really love to feel the quiet in the morning. It energizes myself for the rest of the day! As soon as I wake up I practice meditation for about 10 minutes. It helps me to be more focused on my work for the rest of the day! I practice yoga for about 30 minutes and, then, I study English.

After that, I eat something and have a shower, so to be  ready to start my day at work for the best! I don't have a typical day at work! It depends a lot on the deadlines! My tasks are collecting data, analysing data, meeting students that I'm supervising for their thesis or project, reading a lot of papers to think about an original idea for a new project (I really love this part of my work!), preparing and giving presentations.

When I come back at home, I use to have dinner and watch TV series! Sometimes when the weather is nice I have dinner with my flatemate in the garden!

My Interview

What's the best thing you've ever done in your career?

My Ph.D course!

My profile link:
https://ias.im/u.181093
---
---
---