Profile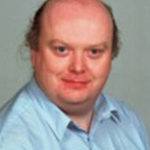 Martin McCoustra
Curriculum Vitae
Education

Larbert High School; Heriot-Watt University

Qualifications

BSc, PhD, DSc

Work History

1988-1994 Lecturer in Physical Chemistry, University of East Anglia; 1994-2006 Lecturer and Senior Lecturer in Physical Chemistry then Reader and Professor in Chemical Physics, University of Nottingham;

Current Job

ScotCHEM Professor of Chemical Physics, Heriot-Watt University

Employer

Heriot-Watt University (http://www.hw.ac.uk) is based in Edinburgh and is the 8th oldest higher education institute in the UK. It was established in 1821 as the Edinburgh College of the Arts, the first Mechanics Institute, to teach the technical arts to all and was the first UK institute to admit women to higher education courses. Notably, the first lecture in the college was on Chemistry!
My Work: I study aspects of how chemistry controls the evolution of the modern Universe; an area known as Astrochemistry.

Read more

Molecules control the modern Universe. They help stars and planets form; they control the size of stars; and they seed the Universe with the potential for life. Take a look at – http://www.stars-r-us.org – to get a little more information. My research group focuses on aspects of how small molecules are formed on and in icy dust grain and how these molecules are returned to the gas phase where they can be most readily observed. Have a look here – http://www.astrochemistry.hw.ac.uk – for a little more detail.

My Interview

My profile link:
https://ias.im/u.172913
---
---
---