Profile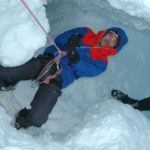 Thomas Perriment
I'm a geotechnical engineer! I investigate the ground beneath us and support design of buildings and tunnels.
Curriculum Vitae
Education

Peter Symonds College (A Levels, 2007-2009), Plymouth University (BSc (Hons), 2009-2012), Newcastle University (MSc, 2016/2017).

Qualifications

BSc (Hons) Physical Geography and Geology, MSc Engineering Geology

Work History

UK (London, Winchester, Aberdeen, Plymouth), Paris, Saudi Arabia, Dubai, Abu Dhabi, Houston (Texas), Canada (Ellesmere Island, Ontario)

Current Job

Engineering Geologist

Employer

I work for a company called Atkins. Atkins is one of the world's most respected design, engineering and project management consultancies, involved in projects including nuclear power stations, tunnels, wind farms, cybersecurity, and smart cities. Projects we've been involved with are the London 2012 Olympics, the Dubai Opera house, flood embankments in Sri Lanka, and sections of the London Underground. We are also in 26 countries, so there is always room for travel!
My Work: I play the detective and investigate the earth beneath our feet to better understand how the ground will react to new buildings and bridges!

Read more

When we get a new project, I start with a desk study. This means I research the site by looking at historical and geological maps, academic articles, results of previous investigations, and much more! Then build a ground model, which is my interpretation of the earth, what the soil and rock is doing, what is the groundwater doing, what are the characteristics of the site…

After this, I go to the site (wherever in the world that might be) and conduct a "walkover survey" looking at the area for anything we didn't see on the maps. After this, I design a ground investigation where we poke holes in the ground with some rather large drilling rigs, taking samples of the soil and rock to test in laboratories.

This information is used to design railways, roads, bridges, tunnels, buildings, and absolutely any structure which meets the ground! Unless it floats, you need a geologist or geotechnical engineer to say where/how you can build.

My Typical Day: Researching new sites to build a conceptual 3D-model, supervising ground investigations, and designing earthworks and structures.

Read more

Any scientist or engineer will tell you that the key to creating a solution, is understanding the problem. The trouble is, most of what I need to know to do my job is hidden underground; this means that I spend a lot of time trying to piece together lots of little bits of information to form the bigger picture. So most of my day-to-day is taken up by thinking about the information I have, constructing an interpretation of the ground conditions based on that data, and also trying to figure out what else I need to know!

The projects I work on are all quite big, this means they are never simple or straightforwards. Any decision I make not only has to be the right one for me, but also for a whole host of other scientists and engineers, so I spend a lot of my day talking to environmental scientists, ecologists, archaeologists, utilities (water, power, gas etc) engineers, making sure that what I ask my contractors to do is also the right move for everyone else. This also means that I spend a lot of time learning about what they do, which is always so interesting.

My Interview

What's the best thing you've ever done in your career?

Travelled the world! As a geologist my work isn't confined to a lab or an office - I visit other environments and countries regularly and it's my favourite part of my job.

What advice would you give someone who wants to be in the same career as you?

Demonstrate your passion for whatever it is you do, and get out into the world as much as possible. Be inquisitive and always remember the bigger picture.

What do you see as your next step in your career?

Working in other countries :)

What other sorts of jobs can you do with your qualifications?

Way too many to list!

What's the best part of your current job?

Getting to travel around the UK and further abroad!

What don't you like about your current job?

Bigger consultancies get bigger projects - working in one of the biggest companies for what I do means we get some huge contracts! This means there is a lot of pressure and so much at stake. That pressure isn't always welcome.

My profile link:
https://ias.im/u.181119
---
---
---